Travel Ideas
Accessible Possibilities
48 Hours in San Francisco
San Francisco is a city that is constantly in flux, and is undergoing a big building boom as more of the high-tech startups here become large, established corporations. But the innovation here is not just present in the high-tech sector, it can also be seen and experienced through exploring the history of this diverse city, from immigrants who started out here anew and helped shape the city to the counterculture of the hippies of the 1960s. As you explore the city, from spooky Alcatraz to rugged Land's End to the upscale renaissance happening at Fisherman's Wharf, tasting the diverse foods along the way helps you dive a bit further beneath the surface, even if your time here is limited.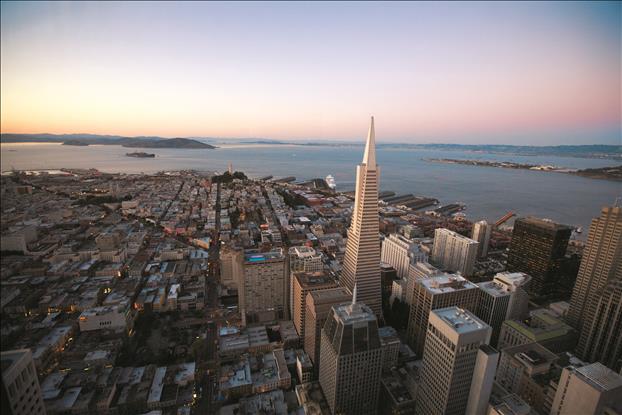 Aerial view of San Francisco | San Francisco Travel Association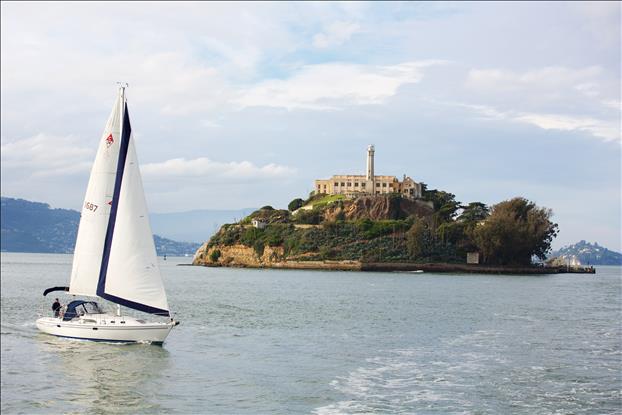 Alcatraz Island | San Francisco Travel Association
Venture out into the fog and catch a morning cruise to Alcatraz Island from San Francisco's Pier 33. Be sure to buy your tickets from Alcatraz Cruises, the official vendor, which include ferry passage and an audio tour of the island's infamous prison in advance, because they often sell out.

The ferries to Alcatraz and the dock they leave from are wheelchair accessible. As your boat sets off into the choppy waters, home to sharks, take in views of the city receding into the distance. On the island itself, travelers who are unable to walk long distances or who need to avoid the very steep uneven terrain can take the wheelchair-accessible tram up to the main building of the prison.

The cell house, museum and gift shop are wheelchair accessible. There are also sign-language tours with advance notice, braille transcripts and audio descriptions. Also, don't forget to enjoy the wildflowers and flocks of nesting sea birds that also call the island home.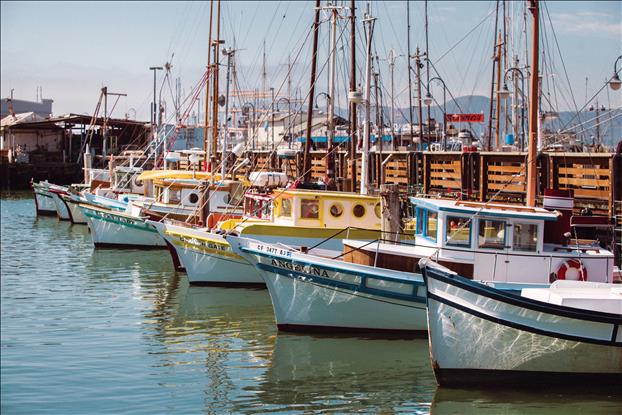 Fisherman's Wharf | San Francisco Travel Association
After embarking from your Alcatraz cruise at Pier 33, head to the nearby Fisherman's Wharf, where you have many choices for lunch, including the newly-opened Waxman's Pizzeria, on Ghirardelli Square, a wheelchair accessible place serving artisan twists on the classic pies. The pizzeria's chef, Berkeley-born renowned chef Jonathan Waxman, also runs a dinner restaurant next door, where an open kitchen and wood burning oven serve up chicken with salsa verde and other California-Italian inspired fusion dishes. The diner is also wheelchair accessible.

These venues are signs of the increasing new life in the classic but struggling square. Listed in the National Register of Historic Places, the square, for years seen as a place where tourists crowded into Ghirardelli's chocolate shops, it is now attracting unique and upscale restaurants and shops, making it a bit more exciting for visitors and locals alike. The Bluxome Home Street Winery recently opened a tasting room on the square joining other newcomers Le Marais Bakery and Bistro, and Mashka artisan jewelry around the centerpiece of Andrea's Fountain.
Even though it may be mobbed with tourists, you should still brave the crowds for a treat at Ghirardelli's but be forewarned that it is a steep approach coming from Fisherman's Wharf.
After lunch, take in more of Fisherman's Wharf. It is one of the flat places in the city, and easy to navigate. Pop into the San Francisco Maritime National Historical Park to explore old ships and learn about the history of the area, and how it went from housing more than 400 fishing boats to a modern center of retail and dining. For those who are unable to climb around and explore the ships, the visitor's center offers virtual tours.

Walk through the Wax Museum to view presidents and other figures immortalized in wax. A paved, but at times steep, path connects the wharf to the red brick Cannery, built by the Del Monte company in 1907 as the world's largest fruit canning facility. Due to the steep nature of the terrain, travelers who are unable to walk long distances or need to avoid uneven terrain, may want to go by car. The cannery is now a shopping mall, but its open courtyard, filled with century-old olive trees and street vendors, adds a unique element.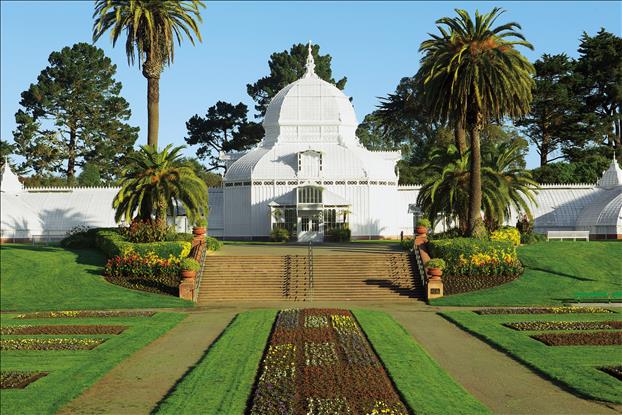 Conservatory of Flowers | San Francisco Travel Association/Scott Chernis
Visit Golden Gate Park, where after walking the paved paths, visiting the AIDS memorial and viewing rare plants at the Conservatory of Flowers, ascend the Hamon Observation Tower at the DeYoung Museum, which is free, wheelchair accessible, and offers a 360-degree view of the city. Many of the other buildings in the sprawling park are also wheelchair accessible.

For any questions about accessibility in the park, there is an ADA coordinator, Paulina Araica, that visitors can contact at 415-581-2558 or email at paulina.araica@sfgov.org. The park also has programs catering to people with disabilities; contact the Therapeutic Recreation and Inclusion Services Division, at 415-206-1546 or by email at RPDTR@sfgov.org to learn more though these programs are for local residents.

7 p.m. Catch a show or art exhibit at the Palace of Fine Arts Theater, originally built in 1915 and restored in the 1960s. The building is fully wheelchair accessible, and has some seats reserved for wheelchair users in its theater. Afterwards, wander around the paved paths on the grounds, where you can see one of San Francisco's most photographed buildings illuminated by spotlights while swans and other birds glide across the lagoon.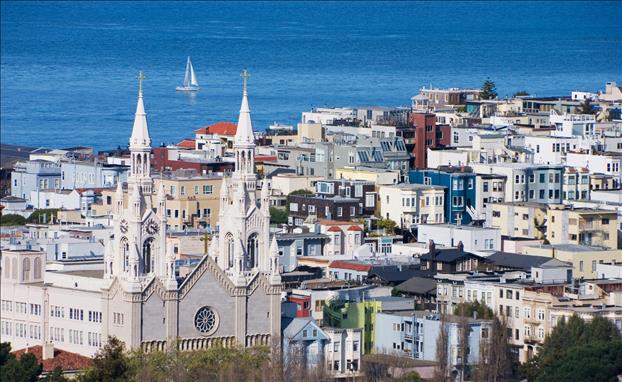 North Beach | San Francisco Travel Association/Can Balcioglu
Head out early to Washington Square Park, where you can see locals practicing Tai Chi each morning. This is one of San Francisco's oldest parks, and is a true green urban oasis featuring the stately Saint Peter and Paul's Church and surrounded by cute sidewalk cafes. The park's restrooms were recently upgraded, and are wheelchair accessible. Enjoy breakfast at the legendary Mama's on the square, which is wheelchair accessible, and where you can fill up on pancakes with fresh fruit, omelets stuffed with fresh crab or chocolate French toast.

Noon: Make your way to Coit Tower, a tall white column rising out of the top of Telegraph Hill, a residential neighborhood known for its cafes and a flock of wild parrots that roams the area. There is accessible parking at Coit Tower, which stands at the top of a hilly neighborhood, but it fills up quickly.

One recommended way to get there is to take the Muni 39 Coit Bus, part of the accessible urban transit system. Unfortunately, the elevator does not go all the way to the official viewing deck, which can only be reached by stairs. But there are still some good views from the level reached by the elevator, making this place worth a visit in any case. On your way out, make sure to look at the murals painted on the walls of the tower's ground floor; originally created during the Great Depression, many portray images of joblessness and poverty.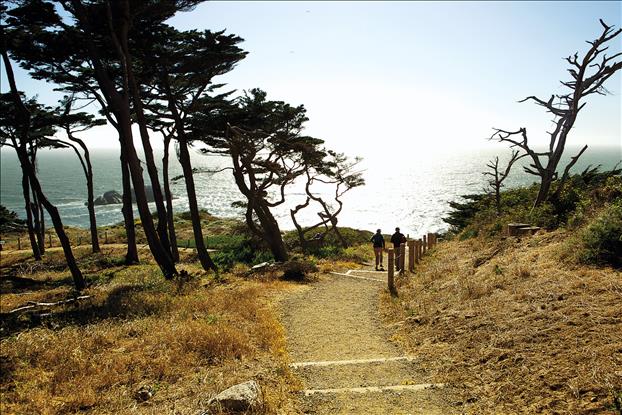 Land's End | San Francisco Travel Association/Scott Chernis
To experience the rugged coast and sweeping views of the Bay and the Golden Gate Bridge, visit Land's End. Here you can follow hiking trails, some of which are wheelchair accessible, through tree-covered hillside, wild flowers and the ruins of the Sutro Baths, which formed the world's largest indoor swimming complex when they opened in 1896. Land's End also offers views of ancient shipwrecks as well as the Golden Gate bridge.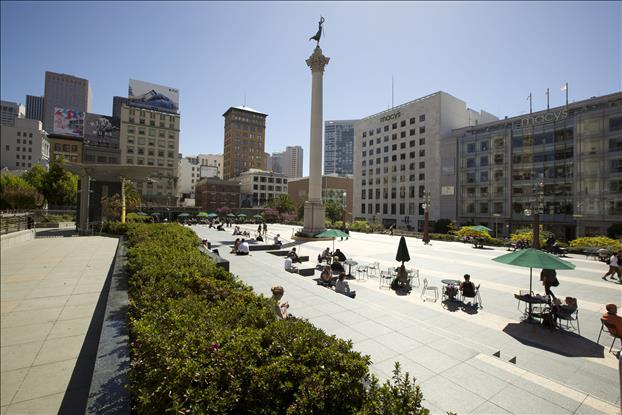 Union Square | San Francisco Travel Association/Scott Chernis
Hit Union Square for dinner and a night out. The square is surrounded by ornate buildings, art galleries and high-end stores like Emporio Armani and Gucci. Ramps help people reach the inner part of the square from the surrounding walkways. There is almost always something going on here, from music to artists painting on easels. Have dinner at Colibri Mexican Bistro, a wheelchair-accessible cantina setting, where the dishes blend together the tastes of Mayans and Aztecs with French and Italian flavors.

Then check out the growing number of hidden, unlabeled secret bars in the city. They are often packed, so obviously the secret is out, but these so-called speakeasies harken back to the days of prohibition in the 1920s. There are a handful in the area around Union Square. Bourbon and Branch is a good one to start with; as it is wheelchair accessible, and it even contains another secret room inside of it; a place known as The Wilson, a speakeasy within a speakeasy. Cap off your night at The Mikkeller Bar, also wheelchair accessible, and where there are 42 kinds of beer on tap and where, downstairs, you will find another speakeasy-within-a-speakeasy, the Tivoli Sour Room.
The wheelchair accessible Bay Area Rapid Transport System connects the San Francisco and Oakland International Airports to San Francisco by train. Elevators are frequently out of service so it's advised to check their website before all your travels. BART is also accessible for those with hearing or vision disabilities. There are also some taxi companies, such as Luxor Cabs that have ramped taxis. Supershuttle also provides door-to-door accessible service to and from the airport. Wheelers Accessible Van Rentals offers vehicles equipped with ramps and lifts, and delivers these vehicles to the airport for a fee. But visitors should be aware before renting a vehicle that finding parking can often cost more than $50 a night at most San Francisco Hotels. With a disabled parking placard, parking is free at metered spaces on the street.

San Francisco is a hilly city with many narrow streets. This, along with expensive parking fees, can also make for challenging driving conditions; so one of the best ways to get around is on the San Francisco Municipal Transportation (MUNI) system. The underground trains, buses and the historic F line are wheelchair accessible. In the neighborhoods, the street level trains are accessible at major destinations and transfer points; the famous trolley cars are not equipped with wheelchair lifts.