Travel Ideas
Accessible Possibilities
With a history dating back to 1682, it's hardly surprising there's so much to see and do in Philadelphia. As well as the must-see sites – think liberty, history and museums aplenty – there's plenty of other attractions to keep you busy. The difficulty is in narrowing down your choices of what to do in the Birthplace of America. After all, with more than 300 years of history, 48 hours is just not going to be long enough!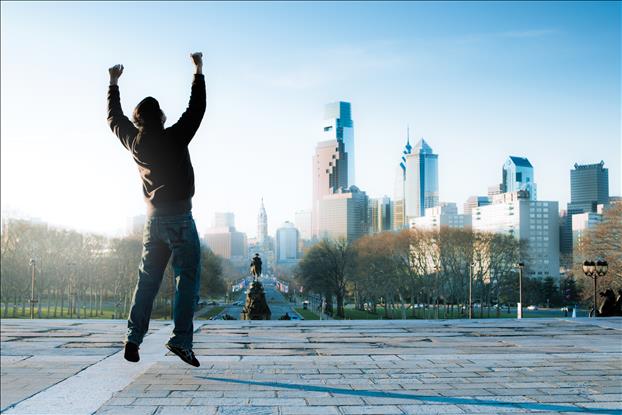 For decades, tourists (and locals) have recreated Rocky Balboa's legendary run up the 72 steps of the Philadelphia Museum of Art, finishing with a triumphant fists-in-the-air wave. | Photo by J. S. Ruth for VISIT PHILADELPHIA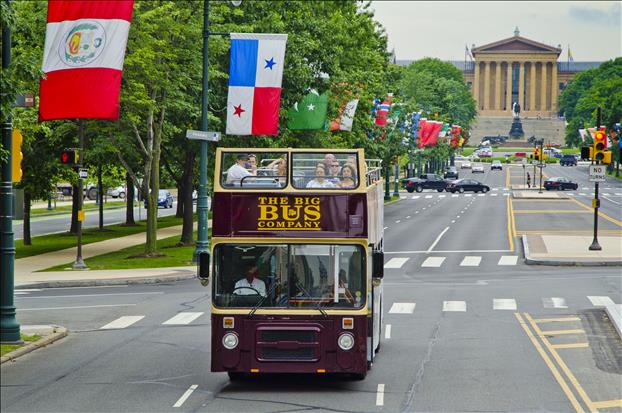 Taking advantage of the almost bird's-eye view of Philadelphia from the top of The Big Bus Company's double-decker sight-seeing bus, visitors enjoy a narrated tour by trained guides. | Photo by B. Krist for Visit Philadelphia
There's no better way to get acquainted with a new city than taking a guided tour. Board a
Big Bus Hop-on/off Sightseeing Tour
and get your bearings in style. The bus – an authentic London double-decker shipped across the Atlantic – makes 27 stops, making sure you can see everything the city has to offer, while an onboard guide gives you the lowdown on the best of Philly.
If you want to do the whole circuit, a guided tour lasts about 90 minutes, but you can get on and off the bus wherever grabs your fancy and re-board a later bus to continue your tour.
The Big Bus tours are
wheelchair
accessible on the lower deck only.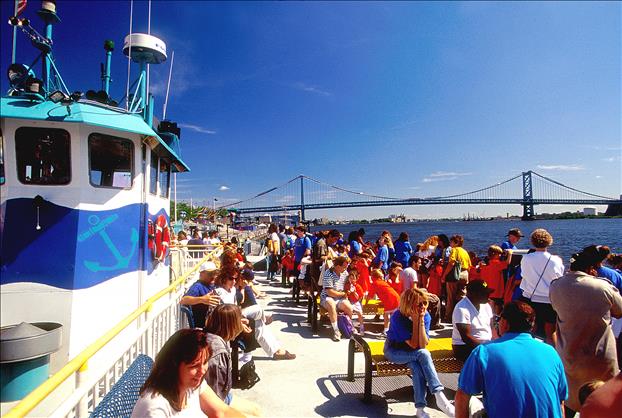 The 100-foot-long riverbus offers an easy, scenic passage between Philadelphia and Camden waterfront attractions, including Penn's Landing, the Independence Seaport Museum, Adventure Aquarium and Camden Children's Garden. | Photo by B. Krist for Visit Philadelphia
Get out on the water with a short journey between the Philadelphia and Camden waterfronts with a 12-minute scenic ride on the RiverLink Ferry and take in views of the Philadelphia skyline and river waterfront.
Once you arrive at Wiggins Park Ferry Port, check out the Adventure Aquarium. The aquarium has sharks, stingrays, hippos, penguins and a shark tunnel that takes you up close and personal with creatures of the deep.
Both the ferry and the aquarium is wheelchair accessible. Manual wheelchairs can be borrowed free of charge from the Information Desk at the aquarium with a refundable deposit on a first-come, first-served basis.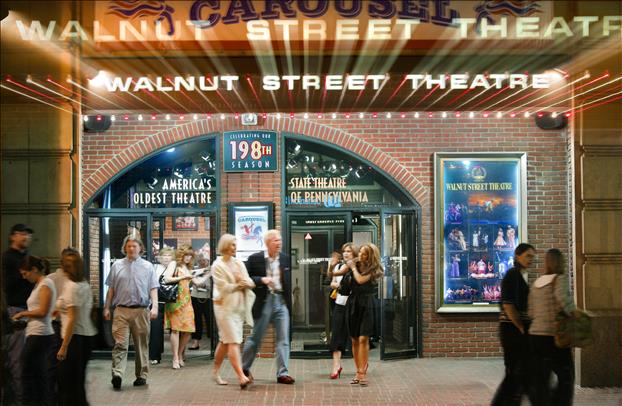 Founded in 1809, the Walnut Street Theatre is America's oldest theater, but its line-up is decidedly modern, offering professional comedy, drama and musical productions. comedy, drama and musical productions. | Photo by G. Widman for Visit Philadelphia
Visit America's oldest theater and take in a show at the
Walnut Street Theatre
. Founded in 1809, the museum is a National Historic Landmark with a long and illustrious list of famous actors to have trodden its boards, including Edwin Booth (brother of Lincoln assassin John Wilkes Booth), Katharine Hepburn, Jessica Tandy and the Marx Brothers.
There is wheelchair seating available in the orchestra level of the Mainstage Theatre. There are wheelchair-accessible water fountains and restrooms on the orchestra level. The Walnut offers assisted listening devices for Mainstage performances with loop technology. Infrared hearing enhancers are available on a first-come, first served basis. In addition, the theater has open caption performances, ASL interpretation for select performances as well as audio-described performances.
Call 215-574-3550 ext. 6 for wheelchair-accessible seating. Click
here
to find out more.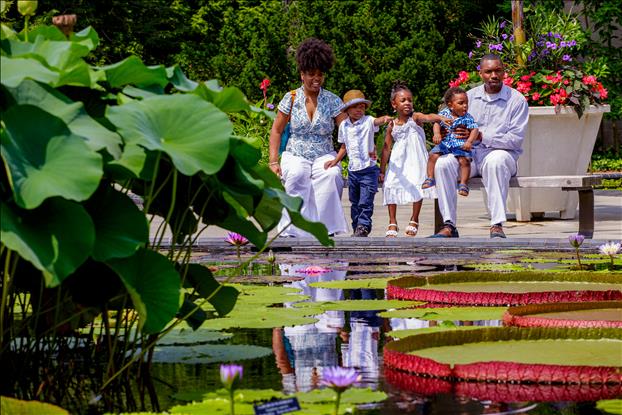 Every inch of Longwood Gardens' 1,077 acres delights visitors. Anyone from the accomplished gardener to non-green-thumb types are in awe of the 20 indoor gardens, 20 outdoor gardens, 11,000 different types of plants, children's garden and other attractions, all located just a short drive from Philadelphia in Kennett Square. | Photo by J. Fusco for VISIT PHILADELPHIA
Get out of the city and take a drive to
Longwood Gardens
, a beautifully landscaped horticultural display garden in Kennett Square, about an hour outside of Philadelphia. The journey is well worth it. Explore the 20-room conservatory and the 20 outdoor gardens, which includes a wildflower meadow, enjoy the dancing fountains and just breath in the fragrant air.
There are 45 accessible parking spaces situated near the Visitor Center. Most of the restrooms and drinking fountains are wheelchair-accessible. A wheelchair route is suggested that takes in wide and paved paths. Most of the route is level or gently sloping, though a few areas are more steep. The Lookout Loft is a wheelchair-accessible treehouse. Electric scooters and wheelchairs are available to rent on a first come, first-served basis. Service animals are permitted.
If all the accessible parking spaces close to the Visitor Center are full, guests can be dropped off at the main entrance.
The Philadelphia Cheesesteak Festival, which first took place in 2015, honors the city's iconic sandwich. The day-long celebration includes live entertainment, family games and rides, the world's largest cheesesteak and, of course, samples from dozens of cheesesteak purveyors. | Photo by R. Kennedy for VISIT PHILADELPHIA
You can't come to Philadelphia without trying at least one Philly cheesesteak, the city's iconic food. These sandwiches meld steak, a choice of cheeses and possibly, fried onion – on a long, crusty roll. Cheez Whiz is the cheese of choice, but you won't embarrass yourself if you ask for American or provolone. Cheezestakes are so ubiquitous you'll find them everywhere, but those in the know say that the best choices are found at Pat's and at Geno's, which is located just across the street for easy (and delicious) comparison.
Located across from the Liberty Bell, the aptly named Independence Beer Garden brings 20,000-square-feet of outdoor drinking and eating space to America's most historic square mile. | Photo by M. Fishetti for VISIT PHILADELPHIA
Philadelphia was once known as the "Cradle of American Libation," so pay homage to the past with a beer or two right where it all began at the
Independence Beer Garden
– a 20,000-square-foot "All American" beer garden that overlooks the Liberty Bell and Independence National Historic Park.
Choose your tipple from one of the 40 regional and domestic craft beers on offer.
The Independence Beer Garden is wheelchair accessible.
Philadelphia is served by
Philadelphia International Airport
. There are accessible restrooms and companion care restrooms situated next to most of the restrooms throughout the airport.
All pay telephones are hearing aid-compatible and have volume controls. The Airport has installed 171, large, easy-to-read LCD monitors throughout the terminals that visually convey information broadcast over the public address system. Callers wishing to page someone in the Airport can call (215) 937-6937 (TDD/TTY: 215-937-6755), or 6937 from a white courtesy phone inside the Airport. There are Service Animal Relief Areas ("Pet Ports") located in every terminal, as well as outside the airport on the Departing Flights road and outside the bag claim building.
To see more,
download
the Getting Around PHL guide.
SEPTA
(Southeastern Pennsylvania Transportation Authority) is the best option for traveling between Philadelphia International Airport and Center City. The journey takes about 25 minutes with one intermediate stop. All stations served by the Airport Line are wheelchair-accessible. There are a number of taxi companies offering wheelchair-accessible cabs including
Freedom Taxi
.
The city's public transportation system is mostly (but not entirely) wheelchair-accessible. While the subway and the train cars are accessible, not all of the stations are, so check before you travel. All city buses are wheelchair-accessible, with lowered floors and wheelchair ramps or straps. The trolley system, which is often called the Green Line, is not accessible at all. The
Philly PHLASH Downtown Bus Loop
is a cheap and easy way to get to all the main tourist destinations. The loop has 22 stops in Center City. Users can take individual rides or purchase and all-day pass. The PHLASH is wheelchair accessible.
The
Kimpton Hotel Monaco Philadelphia
is located adjacent to the Independence National Historical Park in the historic district, putting guests at the heart of history, albeit in a hip hotel. Accessible rooms include modified tubs with bars or roll-in showers, TTY capabilities. Communication features are available.