Travel Ideas
Accessible Possibilities
There's plenty to keep you busy in the Big D and Cowtow, or Dallas and Fort Worth as they are better known. These two cities (known collectively as the Metroplex) have an abundance of museums, endless family friendly activities and plenty of ways to see the area from a different angle (how about, 50 floors up?) While you'll be hard pressed to fit everything in in just 48 hours, you'll be happy as all git-out with this itinerary.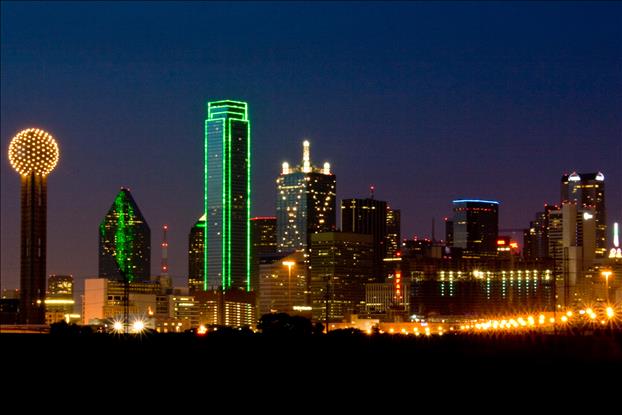 Clay Coleman, VisitDallas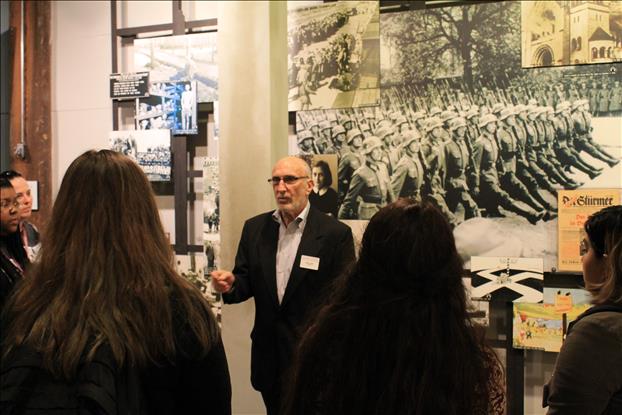 Dallas Holocaust Museum | Dallas Holocaust Museum
Many cities have a Holocaust museum, but the Dallas Holocaust Museum approaches this difficult and emotive subject in a unique way. The museum's permanent exhibition focuses on just one day – April 19, 1943 – when three different and important events that demonstrated heroism, resistance and indifference took place: the 20th train deporting Jews from Belgium was attacked by partisans, the Warsaw Ghetto Uprising began and the Bermuda Conference (a conference between the US and the UK to discuss the question of Jewish refugees and those who remained under Nazi rule) met. There are also changing temporary exhibitions.

The museums galleries are self-guided using free digital audio guides.

The accessible entrance is a separate entrance to the left of the main entrance (as the main entrance requires climbing several steps).
Bible themes and stories have been an ongoing source of inspiration for artists throughout the centuries. The Museum of Biblical Art displays biblically themed art works in its 11 galleries. It also houses The National Center for Jewish Art, an on-site Art Conservation Lab and the Via Dolorosa Sculpture Garden. The garden, which is free even for those who don't want to visit the whole museum, features the 14 Stations of the Cross rendered in bronze by Santa Fe artist Gib Singleton.

All of the museum galleries are accessible to wheelchair users. Wheelchairs are available on a first-come, first-served basis. Benches are dispersed throughout the Museum for visitors who wish to view the artwork while seated.

For ease of access, visitors can be dropped off at the sheltered main entrance.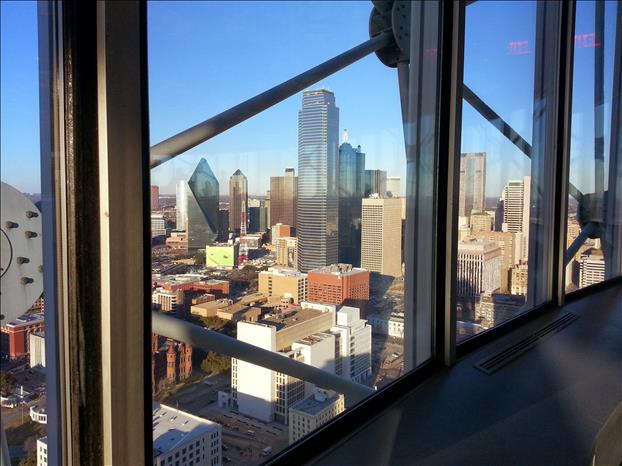 Ge-O Deck at Reunion Tower | VisitDallas
The GeO-Deck at Reunion Tower offers visitors the only indoor/outdoor observation deck in Dallas. Head up 470 feet above ground for incredible views of Dallas and the surrounding environs. You can visit day or night (or day and night with a dual-entry ticket). Once you are done exploring the view, complete the experience with a visit to Five Sixty, Wolfgang Puck's take on modern Asian cuisine. The restaurant is located on the building's 50th floor. You can have the full fine dining experience or enjoy a more casual experience at one of the two bars (including one that revolves, natch).

The tower is wheelchair accessible. There is accessible parking in the Reunion Tower parking lot and valet parking is available after 5:00 p.m.
The Texas Theatre
Everyone remembers where they were when JFK was shot and everyone's got their theories about who did it, and why. Visit the Texas Theatre and see where assassin Lee Harvey Oswald was apprehended by the police on November 22, 1963. As well as its part in one of the twentieth century's biggest conspiracies, the Texas Theatre has a long and glorious history that stretches back to 1931. If you want to see a movie (there's an emphasis on classics), you'll have to buy a ticket – unlike Oswald, who ducked in during a showing of "War is Hell." Email in advance and you might be able to get a tour of the building. There is also a full service bar/lounge which serves local craft beers and lagers and is for moviegoers (who can take their food and drinks into the film) or lounge lizards alike.

The Texas Theatre is wheelchair accessible. There is a reserved seating area for wheelchairs. The bathrooms are wheelchair accessible.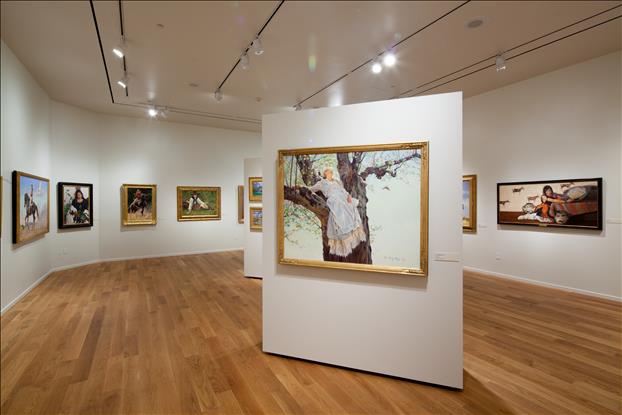 Anne W Marion Gallery | Craig Kushner 2015/National Cowgirl Museum and Hall of Fame
You can't come to Dallas-Fort Worth without acknowledging the area's bovine history – this is Cowtown after all. "Steer" away from clichéd perceptions of cowboys at the National Cowgirl Museum and Hall of Fame. The museum, the only one in the world honoring the women of the American West, houses more than 4,000 artifacts throughout its interactive exhibit galleries, theaters and library. See Annie Oakley's wedding ring and gun, Dale Evans' Bohlin saddle and Nudie Cohn-design clothing and many others belonging to the remarkable women of the West.

The museum is wheelchair accessible. Wheelchairs are available to borrow on a first-come, first-served basis.

Trained docents can guide visitors with low vision or who are blind or have hearing disabilities. Call the museum on 817-509-8960 at least two weeks in advance to make arrangements.

Accessible parking is located west of the museum, next to the main entrance.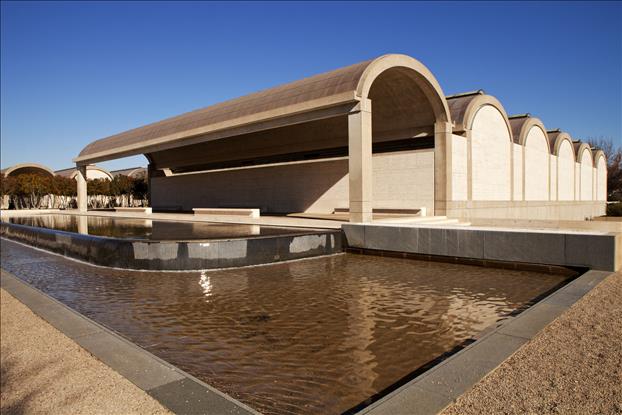 The Kimbell Art Museum is located in the cultural district of Fort Worth, Texas. The museum host European Old Masters and traveling art exhibitions, educational programs. | Anthony Totah
If there's one thing the Dallas-Fort Worth Metroplex area has plenty of, it's museums – especially art museums. Among the many choices is the Asian- and European-focused collection at the Kimbell Art Museum. The museum is housed in a building by Louis Kahn – one of the most influential architects of the 20th century and worth seeing in its own right. Admission to the permanent collection, which is small (only about 350 pieces) but high quality, is free. There is a charge to view special exhibitions (admission is half price on Tuesdays and on Fridays from 5:00 p.m.-8:00 p.m.)

Most areas of the campus are accessible to wheelchair users and others with mobility disabilities. The museum recommends that visitors call ahead to make their visit as comfortable as possible. Call 817-332-8451 and press "0" for assistance.

A limited number of wheelchairs are available free of charge on a first-come, first-served basis at the parcel checks of both buildings of the museum.

Benches are provided in most galleries of the museum.

Restrooms are located on the lower level of the Kahn Building and on both the upper and lower levels of the Piano Pavilion. Restrooms contain accessible stalls.

FM assistive-listening devices are available in the museum auditorium during lectures and films.

Special exhibition labels are available in large print. Booklets may be picked up at the Audio Tour Desk near the exhibition's entrance.

The Kahn Building is accessible through the east entrance (the west entrance is not accessible). The Piano Pavilion is accessible through the underground parking garage and from the group drop-off on Camp Bowie Boulevard.

To enter one building from the other via an accessible entrance, follow the sidewalk around Camp Bowie and Van Cliburn Way. A Special Assistance Vehicle (SAV) is available for visitors who would like assistance in traveling from one building to the other. Visit the information desk in either building to request the SAV.

Reserved accessible parking spaces are available in the parking lot at the east entrance as well as in the underground parking garage.
Find out more here.
Because You're (Fort) Worth It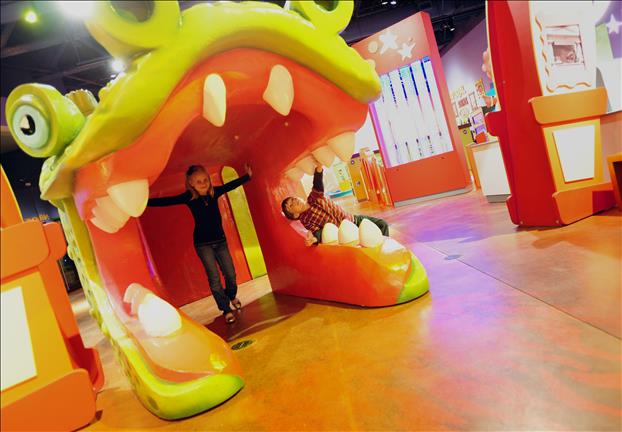 Children's Museum at Fort Worth Museum of Science and History. | Philipus
There's more fun for children (and their accompanying adults) at the Fort Worth Museum of Science and History. There's so much to see at the 166,000-square-foot museum that you could set aside anywhere from a couple of hours to an entire day to try and do it justice. There are interactive exhibitions including Energy Blast; the Fort Worth Children's Museum (designed for children aged eight and under); the Cattle Raisers Museum (this is Texas after all); DinoLabs/DinoDig (featuring the state dinosaur of Texas Paluxysaurus Jonesi) and Innovation Studios (supporting STEM education) as well as a planetarium and IMAX theater.

The museum is accessible. A limited number of wheelchairs are available on a first-come, first-served basis.

The Rear Window® closed captioning system is available for most films in the Omni Theater.

Limited accessible parking is available in the Will Rogers Lot to the east of the museum as well as in the National Cowgirl Museum lot south of the Museum.
End your day with a great show at Casa Manana. Originally an outdoor amphitheater built as part of the 1936 Texas Centennial Celebration, "The House of Tomorrow" now puts on popular traveling Broadway shows and performances especially for children. Kids especially will love the chance to meet cast members after a performance to sign autographs and take pictures. The theater offers kid-friendly snacks to prevent any sugar-low meltdowns!

The theater has wheelchair-accessible seating. Call the Box Office at 817-332-2272 ext. 3.

There are infrared headsets available for guests who are deaf or hard of hearing.
Dallas is served by Dallas-Fort Worth International Airport.

There are animal-friendly areas at each of the five terminals:

Terminal D
Inside Security – at gate D18 (for this location, you will not need to exit the terminal or re-enter through security)
Outside Security –located on the lower level at gates D15 and D29
Terminals A, B, C and E have designated grassy areas located on the lower level outside security.
Terminal A: Gate A6, Gate A38
Terminal B: Gate B5, Gate B39
Terminal C: Gate C2, Gate C39
Terminal E: Gate E2, Gate E38
All restrooms located throughout the terminals are fully accessible. Unisex toilet rooms equipped are also available throughout the terminals and are located adjacent to the accessible men and women's toilet rooms.
The airport provides both visual paging and audible paging. Visual paging is available by contacting the Airport Operations Center at 972-973-3112.
TTY telephones are located throughout the terminals at the public pay telephone banks.
Accessible permit parking is available in signed areas of all parking lots and garages. In the Terminal garages, accessible parking is on both the upper arrival and lower departures roadways. One-hour areas may be utilized for long-term parking as long as the vehicle displays an accessible parking tag or license plate. Due to TSA and height restrictions, garages at some terminals are not van accessible.

Express and Remote lots are served by wheelchair accessible shuttle buses. DFW Airport Valet parking is also available at all terminals.
DFW operates fixed-routes bus service to each of the parking areas listed above. Buses serving Remote North and Remote South are fully accessible. Not all buses serving the other areas are accessible, however, DFW operates demand responsive wheelchair accessible van service 24 hours per day. Wheelchair accessible vans can be used to travel between any public parking area and terminal buildings or to go from one Terminal to another. There is no charge for either bus or van service.
To request a wheelchair accessible van from a parking area, use a courtesy phone in the parking area of the garage and call 4-2527 or tell the bus driver that you need a wheelchair accessible van. Allow time after placing your call for the van to arrive to pick you up.
The DFW Skylink train is a terminal-to-terminal light rail train available on the secure side of the terminal. It offers the shortest and most convenient way to make connections and is served by elevators and escalators. Skylink is fully wheelchairs accessible.

Rental Car shuttle busses are available at all terminals and are equipped with wheelchair ramps and have the ability to kneel or lower for easier access.

Taxi service is available on the upper level of Terminals A, B, C and E, and on the lower level of Terminal D.
An Airport Guest Assistant will be available at the taxi stands between 8:00 AM and midnight. Between midnight and 8:00 AM, dial 972-574-5878 to request a taxi.

Accessible shared ride shuttle service is available via Super Shuttle. Call 800-258-3826 to order a ride.
All Dallas Area Rapid Transit (DART) buses and trains are accessible. Buses have wheelchair lifts and spaces for two wheelchairs per vehicle.

There are stop announcements at major intersections and transfer points.

Trains are accessible via the low-floor center section of each train.

The historic M-Line Trolley line is not accessible.
Base yourself at the 3-star Embassy Suites by Hilton Dallas Park Central Area. Each two-room suite has a separate living area. Amenities include two 37-inch HDTVs per suite, a mini-refrigerator and a free made-to-order breakfast, as well as a complimentary evening reception. The hotel is located close to public transportation and for short jaunts, take the complimentary shuttle service that runs to attractions within three miles of the hotel (accessible transportation is available with advance notice).

Mobility accessible features include roll-in shower or accessible tub and grab bars in the bathroom. Hearing-accessible features include closed captioning on TVs or closed-captioning decoders, digital alarm clock available a vibrating pad/strobe light, strobe alarms, TTY for guest use and doorbell/door knock notification devices.

The business center, restaurant and swimming pool are all accessible.

For information click here.