Travel Ideas
Accessible Possibilities
There are plenty of big and busy attractions in Atlanta, but for those looking to get away from the crowds, think slightly off the beaten (although accessible) path and check out some of this vibrant Southern city's other must-do sights and sounds.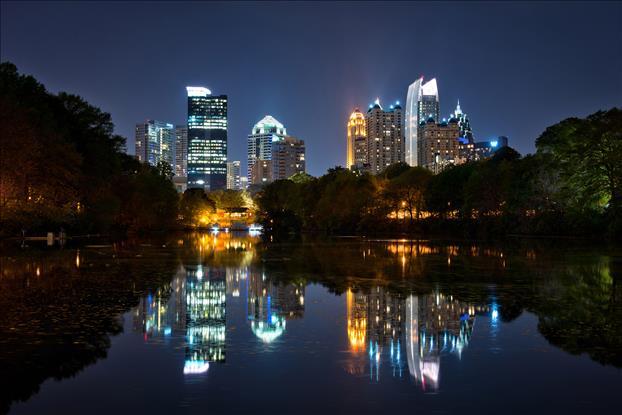 Midtown Atlanta skyline at dusk rising over Lake Clara Meer at the 2014 Dogwood Festival at Piedmont Park. | ©2014, Gene Phillips, Courtesy of ACVB & AtlantaPhotos.com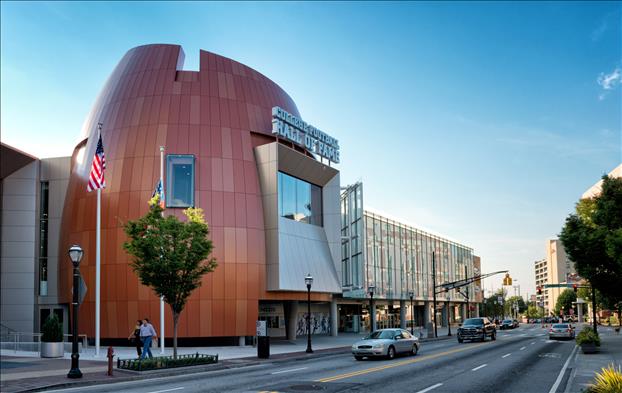 The College Football Hall of Fame in Downtown Atlanta at the World Congress Center. Daytime exterior on Marietta St. | ©2014, Gene Phillips, Courtesy of ACVB & AtlantaPhotos.com
For sports fans (and those who get dragged along with them!), the College Football Hall of Fame and Chick-fil-A Fan Experience offers a complete immersion into the world of college football. Get your fill of the game through a blend of historic artifacts and state-of-the-art, interactive multimedia exhibits.
The site offers complimentary wheelchairs and all the exhibits inside the College Football Hall of Fame include closed captioning.
For guests with sensory processing needs, sensory bags containing special KCVIP badges, fidget toys, noise canceling headphones and other resources are available for use while visiting (photo ID needed).
Fan Ambassadors are available to offer assistance throughout the attraction. Guests who need extra assistance can book a complimentary tour guide.
Email
or call 404-880-4815 at least 48 hours in advance to reserve.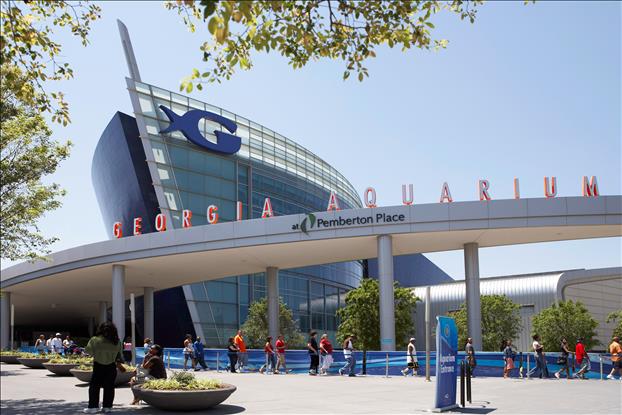 The Georgia Aquarium entrance, daytime. | ©2007, Kevin C. Rose, Courtesy of ACVB & AtlantaPhotos.com
Suit-up, take a deep breath and embark on the underwater experience of your life with a swim/SCUBA with the Gentle Giants at the Georgia Aquarium. The 2.5-hour program includes a 30-minute swim or SCUBA dive in the Ocean Voyager exhibit with a range of animals including whale sharks, zebra sharks and manta rays. As if that wasn't enough, participants also get to view some behind-the-scenes areas of the aquarium.

The Dive Immersion Team is certified by the Handicapped Scuba Association as either divemasters or instructors. The locker room changing area and dive platform are accessible.

Contact the aquarium in advance to discuss specific needs or if you use mobility equipment at 404-581-4000.
The new Atlanta Streetcar at Centennial Olympic Park in downtown Atlanta in front of SkyView Atlanta. | ©2015, Gene Phillips, Courtesy of ACVB & AtlantaPhotos.com
Finish off a perfect day with a look at Atlanta at night onboard Skyview Atlanta. This giant Ferris wheel rises nearly 20-stories above Centennial Park. The ride last between 9-15 minutes (four rotations) and gives riders the perfect chance to check out the amazing city views at any time of day. The Ferris wheel is accessible via a concrete entry ramp with a foldable, portable ramp giving access to the gondolas. There are two wheelchair accessible gondolas. Service animals are permitted on board the ride.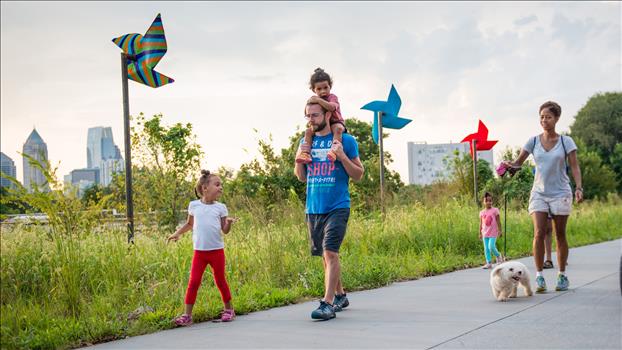 Family walking along the Atlanta BeltLine. | ©2014, James Duckworth, Courtesy of ACVB & AtlantaPhotos.com
Get away from the busy streets and explore the Atlanta BeltLine, a trail network that will eventually link 45 neighborhoods, multiple public parks, and mass transit stations in a planned 33-mile trail network throughout the city.
Find out more
here
.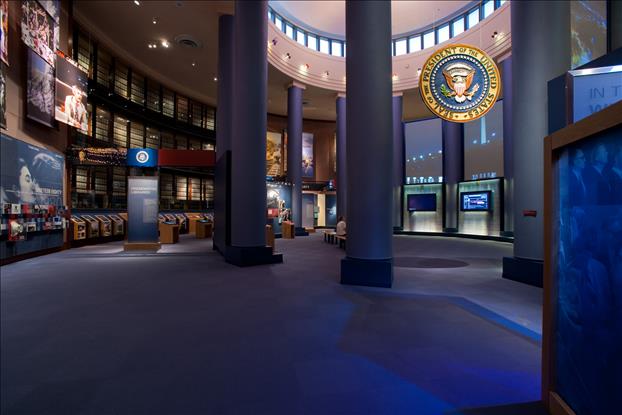 The presidential gallery and archives at the Jimmy Carter Museum. | ©2010, Kevin C. Rose, Courtesy of ACVB & AtlantaPhotos.com
Take a step back in time to the Jimmy Carter Presidential Museum and Library. Celebrating the United States' 39th president, the library houses documents and other papers relating to Carter's administration and family life. President Carter's Nobel Peace Prize is also on display.
The library and museum is
wheelchair accessible
. Currently, there not wheelchairs available for visitors.
There are six accessible parking spaces with ramps leading from the parking lot.
All elevation changes inside the building are negotiable on ramps and with elevators.
City Winery Atlanta
650 North Avenue, Ponce City Market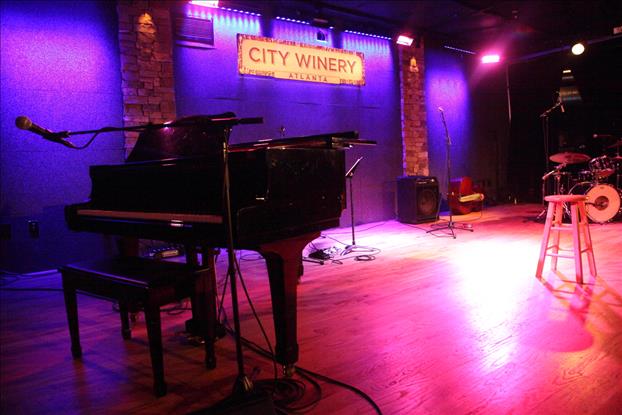 City Winery Atlanta | Adam Smith Photography/City Winery
Take a ride away from downtown and check out the music and wine at City Winery Atlanta. Located in the trendy Ponce City Market at the old Sears, Roebuck and Co. building, there's no better way to end the day than with good food, good wine and good music.

The venue offers accessible seating.

Call the booking office at 404-946-3791 to pick the perfect seat.

Complimentary assistive listening device are available with notice of least one week prior to the show date (photo ID required). Sign language interpreters will be provided for performances upon request, with at least two weeks notice beforehand. Requests can be sent to accessibility@citywinery.com

All of the – extensive – menus are available in braille.
Where to Stay
275 Baker Street
The
Hilton Garden Inn Atlanta Downtown
is located in Centennial Olympic Park. The hotel is across the street from the Georgia Aquarium and close to the CNN Center, the Coca-Cola museum, the Children's Museum and the Philips Arena-home of the Atlanta Hawks, Georgia Dome-home of the Atlanta Falcons.
The hotel has an accessible exercise facility and swimming pool (pool lift for access). Wheelchair-accessible rooms include roll-in showers with attached seating, lowered vanity in bathroom and lowered closet shelves. Other features include visual alarms in rooms and in hallways and public areas.
Click here
to book the hotel on accessibleGO.
Atlanta is served by
Hartsfield-Jackson Atlanta International Airport
, the world's busiest.
All restroom facilities in the airport are fully wheelchair accessible.
For those travelling with service animals, Hartsfield-Jackson offers the Poochie Park on the lower level of domestic terminal north outside door LN2. Animals may also relieve themselves at two other areas in the ground transportation area outside of doors W1 and W2. There are currently no pet facilities inside the secured areas, so owners should take advantage of the domestic terminal locations.
Within the city of Atlanta, the
MARTA
(Metropolitan Atlanta Rapid Transit Authority) is a wheelchair-accessible subway and bus system. The trains and platforms are accessible for powered and manual wheelchair users. Each of the system's 38 stations has an elevator and every train car has a wheelchair-designated area.
Above ground, the city's 91 bus routes are equipped with wheelchair lifts or kneeling capabilities as well as wheelchair spaces and tie-downs/securement straps. For more information, call (404) 848-5000.
The
Checker Cab
company has wheelchair-accessible vehicles, including Ford Windstar Minivans and Dodge Grand Caravans.